​

It is not the human brain that is inherently gender-biased, but the world in which we are raised.

​
What is gender bias?
We may unconsciously or unknowingly attribute certain stereotypes and attitudes to specific groups of people. Gender bias is most prominently visible within professional settings and can disproportionately affect women's success in the workplace. It is particularly prevalent in 'male dominated' sectors such as STEM-based subjects, engineering, and natural sciences. Gender bias can happen at all stages of the recruiting process, from hiring all the way to retaining employees; studies show how there is still a considerable way to go in eliminating it across all sectors of the business.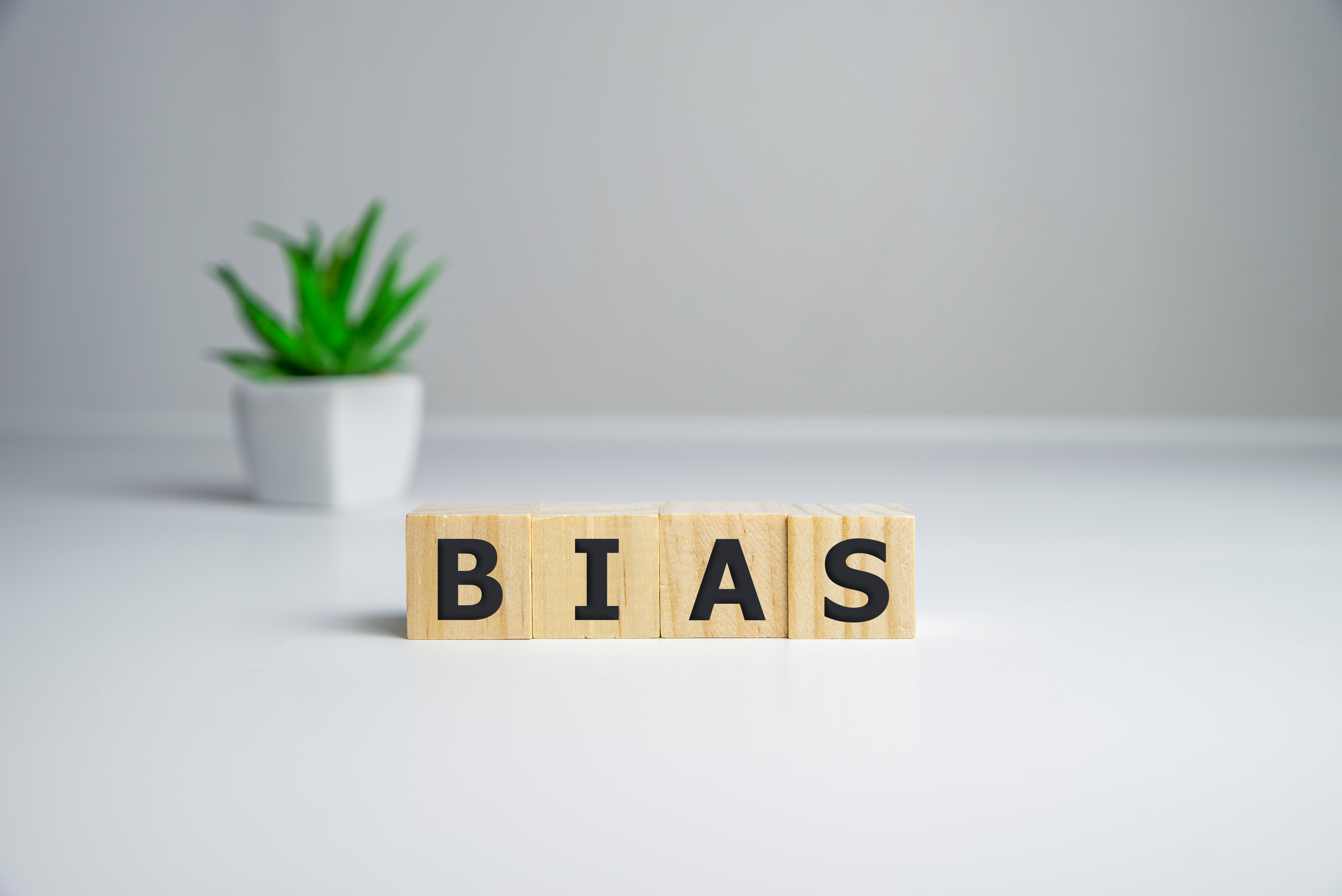 How gender bias affects women in the workplace.
It's important to focus on eliminating unconscious gender bias as it can lead to the best potential candidates being ignored, cost organisations millions through low staff retention and a failure to attract the very best and diverse candidates. It too can mean a low female representation at managerial level, despite results and evidence highlighting that women in higher board positions make for a more profitable organisation.
The world is changing and so are we. It's never been more important for women to be equally represented throughout all areas of businesses, especially STEM-related roles: science, technology, engineering and business. Women, now leading the way and changing the rules, were previously left behind and overlooked. They were even originally barred from the US space programme due to concerns of having temperamental psycho-physiological tendencies on board!
Half of men believe women are well-represented at their company when 90% of senior leaders are men.

Men are 30% more likely to obtain managerial roles.

Women receive pay rises 5% less often.

Only 23% of CEO's are women.

Only 4% of C-suite roles are held by a woman of colour.

Employees with women managers are more likely to say that their manager has supported and helped them over the past year.
Debunking the unconscious bias, what can be done?
With new initiatives in place to encourage more women into male-dominated areas of business, what can be done to reduce unconscious bias?
Set specific diversity goals
Setting some realistic gender diversity targets is a good place to start and can ensure you stay on the right track throughout the entire recruitment process. By no means should you employ an individual to simply tick a box but having goals to work towards can help to identify any problem areas that you may need to improve.
Implement gender-neutral recruitment process through language
The use of language, research has found, can unintentionally reflect stereotypical gender roles.
An area of debate and consideration for any organisation is how the use of language and linguistic forms for advertisement of vacancies and roles can shape certain perceptions. Without realising it, often people use gender-coded language due to the way we have been brought up in a gender-biased society. With different societal expectations for both men and women, this can seep into language.
When drafting up your job boards and advertisements, examine the language you use such as he/him and she/her and avoid gendered job titles such as Policeman or Stewardess; begin best practice to use gender-neutral job titles such as firefighter instead. It is also key to choose phrasing to describe behaviours instead of phrases that point to the person who would be considered for the role, as this could lead to bias interpretations. This not only helps with gender bias but also is inclusive for those who are gender-fluid or non-binary.
There are varying individual factors that contribute to the underrepresentation of women throughout certain sectors and roles. However, Harvard research brings to light the less-documented institutional factors within our social structure itself. Woven into our very language are 'trigger' words that are proven to be associated with men such as analytic, assertive, confident, determined, intellectual and leader; other words that are likewise linked to women, such as compassionate, empathetic, honest, modest, polite and sensitive.
Worryingly, the difference throughout job adverts in varying industries is quite stark. The study reflects that 'male-dominated' industries such as science, sales and c-suite roles include the male-gendered words. Whereas roles such as administration, housekeeping and social care are more likely to include female-gendered words. Gendered wording has been employed throughout job advertisement purposefully to deter women from applying in certain areas and to encourage them in others. Research has shown that a large percentage of women (though not all) will be dissuaded from applying for a position when adopting male-gendered coding.
Due to these issues reflected in an inherently biased institution, men may be more likely to apply for these kinds of roles over women and reflectively contributes towards the issues in gender pay gap. Consider changing the wording in your job roles to more gender-neutral words such as Integrity, curious, trustworthy, alongside, relationship building, self-motivated and adaptable.
The UK government is at the forefront of this and is already set to begin trailing gender-neutral language in apprenticeship advertisement, in the hopes to increase diversity amongst apprenticeship programmes.
Be aware of unconscious bias in the interview process
Adding structure to an interview by having a series of standardised questions that are used uniformly across the whole process, makes it easier for the interviewer to compare each candidate applying for the job fairly. These questions can include some icebreakers and easier questions and any technical questions relevant to the role. Having guidelines to record and interpret responses during an interview is imperative.
It's also a good idea to identify the preferred answer to each question you are asking before you conduct the first interview, so you know when you have found that perfect candidate.
Use a diverse interview panel
Depending on the type of interview process, you may be able to elect a gender diverse interview panel which can reduce the risk of unconscious gender bias. If possible, it is a good idea to extend this strategy to have a fair mix of cultural diversity and age range when conducting a series of interviews.
Ensuring your recruitment process is fair and unbiased against all genders has a positive effect on the entire business. For example, a recent study conducted by UC Davis revealed that out of the 400 companies who took part, those who have a high percentage of female executives have a 74% higher return on assets and equity. Overall, companies are 15% more likely to perform better if they are gender diverse.
Support women and educate
Supporting women into more senior roles and diversifying the board is vital. Huge leading companies like Accenture, Barclays and KPMG all have clearly defined set gender target broken into business lines and functions. These follow in line with deadlines so they can measure themselves against their own targets. They are constantly ensuring they actively encourage women to progress and applying for promotions where possible.
We can also educate our own employees about their own unconscious biases. It is a simple step we can take that will reach everyone and help people understand their own biases and help work towards eliminating them.
Equal introduction of flexible working and Parental leave
Particularly following COVID-19, we have found working from home a very new and permanent part of our lives. Many successful companies have therefore introduced new flexible working schemes and new parental leave benefits for employees. Not only does this increase employee retention it can also shorten the gap and help address underlying discrimination. Previously women were the selected group to care for home life and children, meaning they may have missed out on promotions over men who were visually seen in the office. By closing this gap and allowing time for both parents to care for their families, both are given the same opportunities.
Both flexible working and parental leave mean more time working away from the office, but it isn't about where you work it's all about the work you do! By assessing employee's performance through achievements and promoting through performance reward systems in opposed to time recognised in the office. Employees will not only feel more valued, motivated, and recognised for their achievements, but this too will help in breaking down gender bias particularly for returning to work mothers.
Gender does not define us; we all have unique skills and abilities and should celebrate our differences. A diverse company brings innovation, creativity, a broader range of skills, improved cultural awareness and increased market opportunities.
Click here

to read more about Morson's drive for diversity, or for an insight into our EDI consultancy and how we play a leading role in creative cultures

,

click here

.