​There is a wide range of fantastic joinery job opportunities in the UK construction industry for joiners, from homebuilding to major projects in the commercial sector.
Keep reading to find out more about the skills and experience you'll need and discover whether a joinery career is the right fit for you.

RATES
£8-13 per hour
HOT SPOTS
Hinkley Point C / HS2
QUALIFICATIONS
NVQ, City & Guilds
​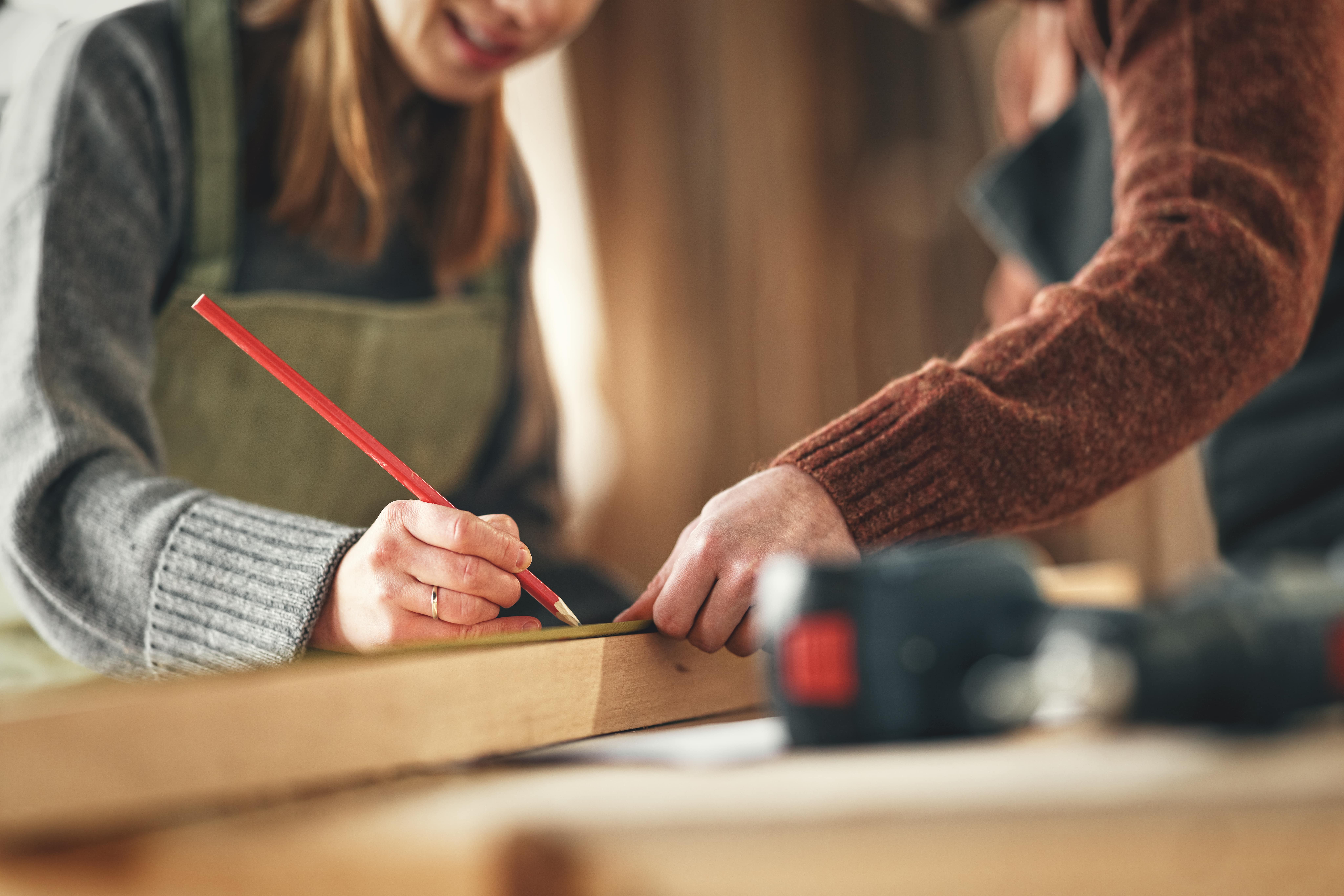 ​
What do joinery jobs involve?
Joiners construct the wooden components of a building, creating things by joining pieces of wood. You could be working on anything from interior and exterior doors and windows to stairs, tables and pieces of furniture. You could also be involved in repairs and maintenance work on flooring, roofing, skirting and ceilings.
​
What is a joiner's salary?
Starting salaries for joiners will usually range from around £17,000 up to £24,000. As you progress through your career, gaining more experience, your salary will increase to reflect this. More experienced joiners can expect to earn from £25,000 to £35,000. If you plan to be self-employed, you can set your own rates, meaning your annual salary could vary.
These figures are intended as a guideline only.
​
What skills do you need?
You'll need an excellent eye for detail and the ability to follow complex technical drawings and plans as you'll often be involved in intricate, ornamental work. You'll also need a solid grasp of maths and arithmetic in order to work out measurements and angles and minimise any wasted materials.
You'll need a degree of physical strength and fitness, as joinery jobs involve a good amount of heavy lifting and carrying. It's also important to be confident in using a range of hand and machine construction tools, ranging from hammers to bench saws.
​
What qualifications and training do you need to become a joiner?
There are a number of different entry routes to a career as a joiner. Many people opt to complete a college course in joinery to gain some essential knowledge and skills before they look for a role. You'll need 2 or more GCSEs at grades 9 to 3 (A* to D) or equivalent to join onto level 2 course and 4 or 5 GCSEs at grades 9 to 4 (A* to C) or equivalent for Level 3. Once you've got these, you're all set to look at the different levels your college or trainer provides.
Suitable courses include: NVQ (level 1 or 2) or City & Guilds 6217-02.
Some employers will offer introductory roles as a labourer or joiner's 'mate', giving you on the job training. Alternatively, an apprenticeship gives you the opportunity to gain important skills and experience, while getting paid at the same time. Similarly, you may require some existing qualifications in order to start an apprenticeship – usually five GCSEs, or a basic vocational diploma like a BTEC.
If you want to work on a construction site, you'll need to apply for a Construction Skills Certification Scheme (CSCS) competency card.
​Work experience can be essential when it comes to securing the best jobs within any construction industry. This can be started as early as school years, either through school or at the weekends or over the summer holidays.
​
What Joiner courses can you take?
There are a lot of different courses that can open up the world of carpentry and joinery, it's all about finding the right one for you here is to list a few:
· Diploma in Bench Joinery
· Award in Timber & Panel Products
· Diploma in carpentry and joinery
· Diploma in wood machining
· Intermediate or advanced apprenticeship in carpentry and joinery
· Train as site carpenter or an architectural joiner
There are four trade areas available for those who would want to work in the construction industry and specialise in working with wood: site carpentry, bench joinery, shopfitting joinery, and wood machining. Once you have learnt the basic skills in carpentry through your chosen course, you can progress to becoming skilled in your chosen trade or choose an apprenticeship to work towards becoming a master craftsman. There are both full-time and part-time courses, with day and evening schedules that can be taught online or in-person, so whatever your flexibility or lifestyle there is a course for everyone.
What to expect for working hours and conditions?
Your standard working week would usually be between 39 and 45 hours, Monday to Friday. However, sometimes you'll be expected to put in overtime on evenings or weekends to ensure deadlines are met; this will be as and when projects require it. Overtime and extra shift pay could help boost your income!
A lot of your time will be spent in a workshop, with some visits to the job site. This means there may be an element of travel involved and you may have to spend time away from home.
Working in a workshop means you'll encounter lots of dust and noise and will engage in physically strenuous and often hazardous activities like climbing ladders, heavy-lifting and operating machinery like saws and drills. Protective clothing, like helmets, ear-defenders, googles and boots are essential.
​
Career progression
If you're willing to put in the time and effort, there are various opportunities for progression in your career, including:
Freelance: If you can develop a network of connections with sub-contractors and build a reputation for yourself as doing high-quality work, you could become a freelancer. This gives you the chance to negotiate your own rates and offers greater flexibility.
Company Director: If you succeed as a freelancer and acquire your own workshop, you could start your own business, employing other joiners.
Specialist: With enough time and experience, you could become a specialist in a certain field, such as creating bespoke fitted furniture. Again, building connections in the industry and making a name for yourself will help with this.
​
Areas of specialism
There are a number of areas skilled joiners can specialise in as they progress in their careers. Many will opt to specialise in bespoke furniture, both for individuals and for the private and luxury sector.
Another route to take is stairs, as an increasing number of people decide they want a bespoke staircase in their home.
Alternatively, there are opportunities in the film production and theatre industries, where you can help with building stages and sets.
​
Find your perfect Joiner opportunity now with Morson, by clicking

here
.