As contingent construction recruitment becomes increasingly difficult and critical skills expensive to find, we explore why a Managed Service Programme (MSP) is an attractive solution in such an economy.
​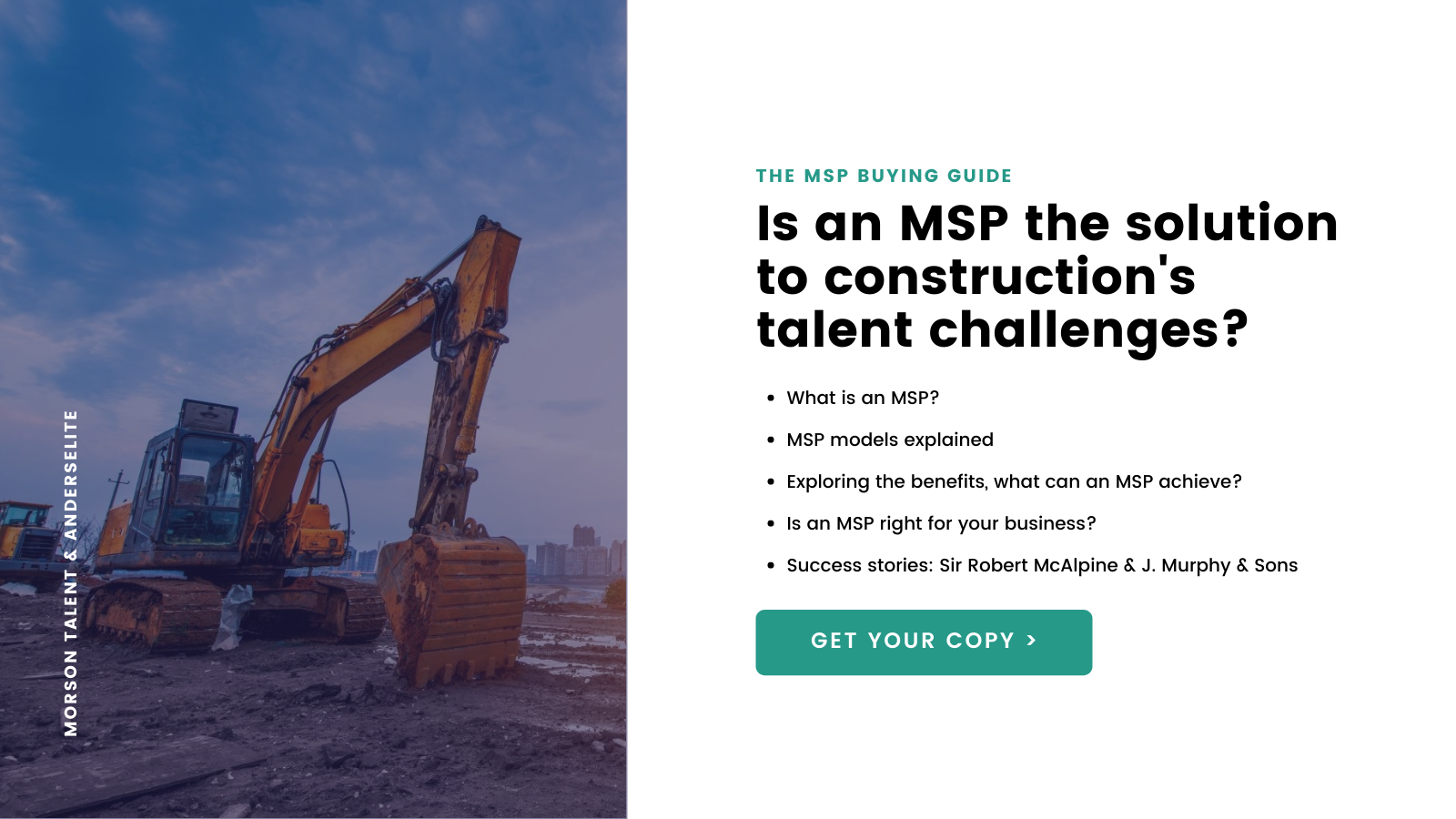 ​
There are several choices for employers hiring contingent labour, we know that it can be difficult to establish the best, most commercially sound route for your business. To help, we've created a comprehensive MSP buying guide to enable construction organisations to understand what an MSP is and how the talent solution can generate significant cost savings, overcome skills shortages, maintain governance and compliance and increase worker visibility, specifically within the construction industry. We also take a deeper dive into MSP success stories from construction industry leaders such as Sir Robert McAlpine, J. Murphy & Sons and Costain.
Within this guide we explore:
What is an MSP?

MSP models explained

What are the benefits of an MSP?

Is an MSP right for your business?

Introducing a new standard of MSP

MSP success stories
​
​
​What is an MSP?
A Managed Service Provider handles every element of your contingent hiring process.
Managed Service Programmes were traditionally implemented to manage and increase the visibility of contingent workers. However, to succeed in today's ever-changing world of work, managed services must move beyond the transactional.
Modern solutions must be agile, able to support organisations through all, or just part of the worker lifecycle, optimising and leveraging workforces through advanced analytics to inform workforce planning and using new technologies to empower strategic business decisions.
As well as finding the right people for every type of role, from specialist technical staff to office support, an effective managed service takes a bird's eye view of your talent, enabling organisations to keep spend consistent, track trends within your workforce, maintain governance and compliance, build diverse teams, and forecast and prepare for future issues and opportunities.
It's a collaboration that fuses your ambitions, objectives and intelligence with the talent expertise and market knowledge of a leading recruitment provider.
​
If you would like to find out more about any of our talent solutions, including MSP, or how we can help to overcome talent challenges such as skills shortages and workforce visibility, we're here for a coffee and a conversation. Get in touch at hello@morson.com
​