​
People of Digital is our digital-first, interview-style video and podcast series, showcasing game-changing technologies and exciting businesses in the digital space, and uncovering emerging trends whilst spotlighting the digitally-driven people behind them.
In this edition, we speak with Aden Hopkins, CEO of maritime software solutions business ShipNet. The business has been delivering technological, commercial and financial solutions to the maritime industry for over 30 years to customers ranging from fleet management companies to some of the largest tankers and ship companies in the world.
Aden's career had seen extensive experience working in a variety of executive directorship positions across disciplines such as oil and gas – but it wasn't until a phone call with Morson's Business Development Manager Sam Menelaou, then a tech recruiter, that he realised that the skills he had acquired made him perfect for a more senior role that he hadn't before considered – CEO.
Sam and Aden caught up for a chat to discuss Aden's career, his experience with Morson and where he sees the future
Aden: I feel lucky to have had quite diverse professional experiences, from being a professional coach to executive directorship to various commercial and sales leadership roles in many different verticals such as oil and gas, maritime of course, asset management, CRM and defence. Having lived in the Middle East for ten years, and the Americas twice and owning my own businesses, I think all of these experiences have really shaped who I am and the style of leadership I bring today.
Sam: So, were you aware of Morson and what made you contact us?
Aden: I actually heard about Morson about ten years ago and heard about you again in the US and your reputation of placing leaders in sectors such as aerospace and the IT and digital space. That's why I got in touch with you.
Sam: From a candidate's perspective when sourcing a new role, have you used recruiters before and if so, what's the perception?
Aden: I have had quite a mixed experience using recruiters in the past. Many years ago, I got to a second interview, but the recruiter forgot to tell me that! Another recruiter sent me all the candidate's CV's that were going for the same role I was going for which was bizarre. Honestly, I had a bit of scepticism when finding this new role but I'm really glad we found Morson and found yourself, Sam.
Sam: I remember you calling to us on a sunny Friday afternoon, everyone else was out for lunch, I was manning the phones by chance and you rang in. When we spoke, I thought we've got someone here who's really professional and really frustrated. I ran through your experience and thought, I've hit a pot of gold here! As we talked more and more, I thought you were perfect for this position, but you'd never thought about a CEO position before. When I mentioned the CEO position at the end of the call you laughed!
Aden: Yeah, I never considered going for CEO before I was going for other executive positions in large organisations and when you mentioned the CEO position at ShipNet I was laughing saying 'are you sure?' It was unbelievable and you sent me the candidate pack there and then…
Sam: That was to try and convince you because you wouldn't believe me that you were correct for the role!
Aden: And it was amazing. I remember going through it with you on the phone and thinking wow I have something here that I can add value to.'
Sam: Three months before we were going through a rigorous process of looking for CEO's for ShipNet, we were going for ready-made CEO's and as you know now it just doesn't work with the reporting aspects and with Volaris being a private equity business. So the HR director, Claire, rang me and directed me to look at Sales Professionals within a SAAS business who had hit the glass ceiling, were at Sales Director VP exec level - they were running a business but just didn't have that CEO job title. The timing was uncanny, we were thinking we'll start from scratch now here we go again and low and behold...
Aden: It was amazing and for me I remember that conversation as if it was yesterday and what was amazing was how fast that process went. I think it was within four weeks from the conversation with you to the offer letter in my hand. It was the most amazing experience and I remember laughing about the CEO position because it was a shock, but I'm really glad we spoke!
Sam: Once you looked at the candidate pack what convinced you to go for the role at ShipNet?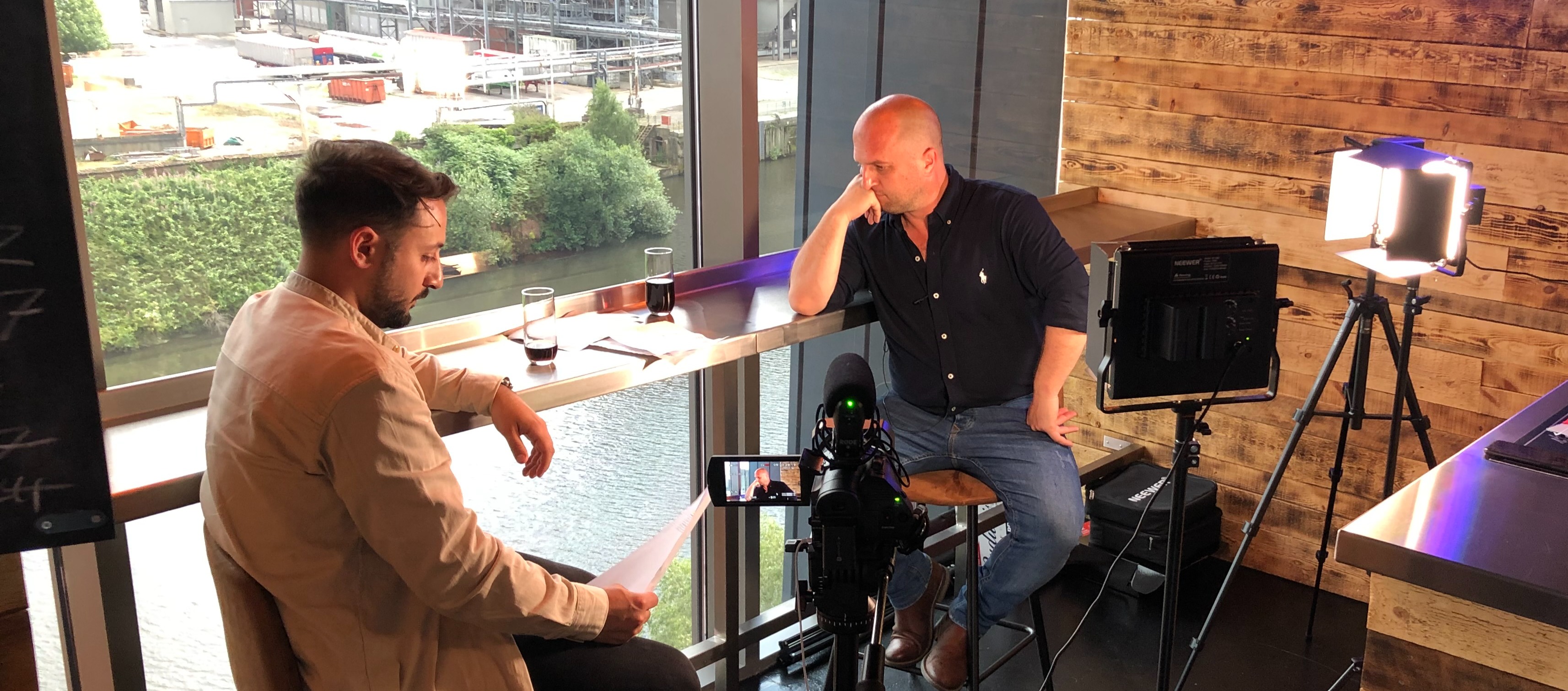 Aden: I remember when I was laughing at you about the role, you were saying I know my client, I know Volaris and I know they're looking for you and I thought 'wow I need to see this candidate pack' The thing that stood out for me straight away was that I knew I could offer them something based on my previous experiences. For example, I was previously executive director of a business in the Netherlands, which was a similar mature 30-year-old software business wanting to re-strategise the business. I'd gone through that experience and more recently building a SAAS business inside a large organisation. I had covered those bases and that's what ShipNet were looking for.
I think also the Volaris bit stood out. The fact that they were acquire business and try to strengthen them was interesting to me but when I learnt a bit more and found out they'd never sold a business I thought that's an interesting model. When I imagined myself working in a large organisation like Volaris that keeps businesses forever but also allows them to keep autonomy and as a CEO I'd have complete rule of this, I was excited.
Sam: They're a great business to work for, I've never seen a business invest in their internal employees so much. I've been to the CEO business days with you and that's where we met, and they went through each individual one by one and talked career progression. They do this with each of their internal CEO's it was just by chance that they were looking externally for this and our paths crossed.
Aden: That's a really important point because when I interview candidates, I absolutely stress that we don't just look at talent development planning, it's a real thing. It's a driver across every single one of my managers across every business unit across the world.
Sam: You've been at ShipNet since February, you're more than settled - so what does the future look like for you?
Aden: For ShipNet I think the future is bright, I think the team have done an amazing job. They've taken on new initiatives; they've been willing to try new things. It's been incredibly impressive to see, and it's made real change in the business and I think our customers are seeing that now as well. We're implementing new growth framework. The best bit is that it isn't from internal consultants that say 'you've got to do this framework', this has been put together by our COO of the group who's gone out to other businesses in Volaris and asked what's worked and what hasn't and what can be replicated at ShipNet. We've taken that, we've made it our own, we've got people in management leading the initiative across the whole business. It's given everyone in the business a voice to make an impact and that's all because of our work with Volaris. It's really impressive and I'm super excited for the results from 2022 onwards.
The other one is staff engagement, so we talked about Group a lot, and part of the Volaris Group and marine group and there's been a big portfolio push across all businesses for staff engagement. It's super impressive this year the communication across all management levels, I've got people in Chennai and Canada communicating with me about what's changed and what needs to change. It's been really impressive to see in the 18 months I've been in the business. From my perspective, I want to keep working with the amazing team that I have and keep meeting and beating my strategic objectives. On a personal level I want to keep learning and developing inside the Volaris family.
Click here for part two of Aden's interview.
​
Morson has an extensive track record of placing leaders across sectors including aerospace, marine, IT & digital and professional services. For more information, contact Sam Menelaou at sam.menelaou@morson.com
Search our latest jobs here