​An official Salford version of the world's most popular and famous family gaming brand MONOPOLY has hit the shops this morning (Wednesday 13th October) and we're delighted to announce it features Morson Group!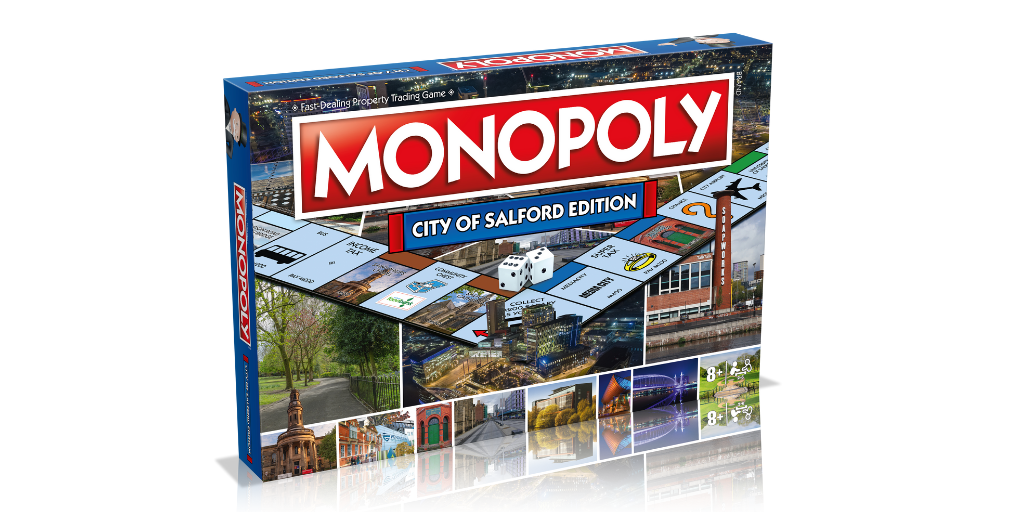 The new game sees Salford's very finest 'Pass GO' from MediaCity - which gets to land on the game's most prestigious square – to Ordsall Hall, the University of Salford and both of the city's professional rugby league and football clubs.
And we get to star in the game too. As well as appearing on the front cover and the game board, we also appear as one of the utilty companies and feature on a Community Chest card!
In all, more than 30 Salford landmarks and charities 'Pass GO'.
Afolabi Omotola, Custom Games Executive at Winning Moves UK, who are the makers of the board under official license from Hasbro, said:
"We have been wonderfully spoilt for choice putting this great game together.
Paul Dennett, the elected City Mayor of Salford, adds:
"We're delighted to see Salford get the global recognition it deserves in this way. MONOPOLY: City of Salford Edition game squares span our long and proud history, from Ordsall Hall built 750 years ago to the ultra-modern and still expanding MediaCity, which is home to the largest cluster of digital and technology companies outside London. The board also shows the real heart of Salford - our people - through local charities, Salford Lads Club and two of our great sports teams also being featured. I know people will thoroughly enjoy playing this version of the MONOPOLY game."
Several charities get to feature in the game as well, following a public vote They include START, which was formed in 1993 and delivers a range of mental health services to help improve people's wellbeing and increase confidence and self-esteem through harnessing the power of creative and positive activities.
The makers have largely themed the famous MONOPOLY multi-coloured property sets around different genres, from heritage to shopping, to culture and sport. The four train stations from the London original game each take on a 'travel' theme, as Salford doesn't have four mainline train stations to select from.
The very recently re-branded MediaCity - formerly MediaCityUK up to last month (September) - gets to land on the top-ranked square. It replaces glitzy Mayfair from the game's classic London original.
Whilst the rules, money denomination, playing tokens and above all the spirit of the MONOPOLY game stay the same, all the property spaces become Salford landmarks. Chance and Community Chest cards are customised too. One rewards players with enough money for a shopping spree at Quayside, whilst another fines players for littering at the historic Clifton Country Park.
The board is available now at Asda, Ryman, Selfridges, Waterstones, The Works and WH Smith – as well as extensively online
,
including on Amazon.